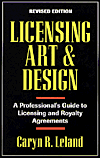 by Caryn R. Leland. New York: Allworth Press, revised 1995.
Contains advice on how to license creative images with information on protecting ideas using copyrights, patents, and trademarks; maximizing royalties; finding manufacturers and distributors; and licensing in cyberspace. Includes a model licensing agreement.
Publisher's price $16.95
Click to order from Amazon.com and Save!
---
---