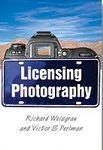 Licensing Photography Book Coverby Richard Weisgrau and Victor S. Perlman. New York: Allworth Press, 2006.
Written by a photographer and intellectual property attorney. Provides advice on writing licensing agreements, prices the value of licenses, and how to successfully negotiate fees.
Publisher's price $19.95
Click to order from Amazon.com and Save!
---
---